Skatt - the social thrift shop, Corporate
This is my final project of my communication design studies. I choose to do a corporate design for a fictional thrift shop which is besides selling clothes organizing social events, auctions and workshops.
The idea is to develop a store that is mainly for younger people with less financial resources like people with low income, Hartz IV recipients or students, trainees and so on. In addition, anyone who wants to do something good for the environment, doesn't always want newly produced goods or just want something new is also welcome. It's supposed to be a thrift store: That means used clothes, Bags and accessories are sold.
It makes me sad to see that people have to live on the streets, so I have made supporting the homeless an important part of the business.
Skatt supports people, for example when looking for work, not only the homeless, but also other people who need help.
Skatt speaks in addition to the offer of second-hand clothing also about homelessness, poverty and the environment. The Brand stands up for people and tolerance, offers help and educates about the environment, poverty and other important issues.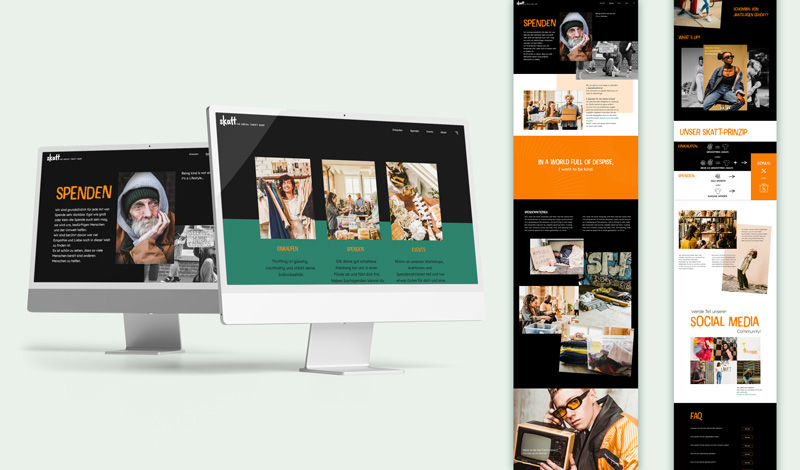 On the website is the background alternating black, white or orange for minor highlights.
Pictures take up a huge part of the website. They often overlap and are not on a strict grid. Occasionally images can be tilted to -4°.
Texts should not be too long. Short, concise sections of text that contain the most important information are most suitable for the target group.
Applications of the design